Recruit Students in a Post-COVID world
How to boost student recruitment using video
Mar 17, 2021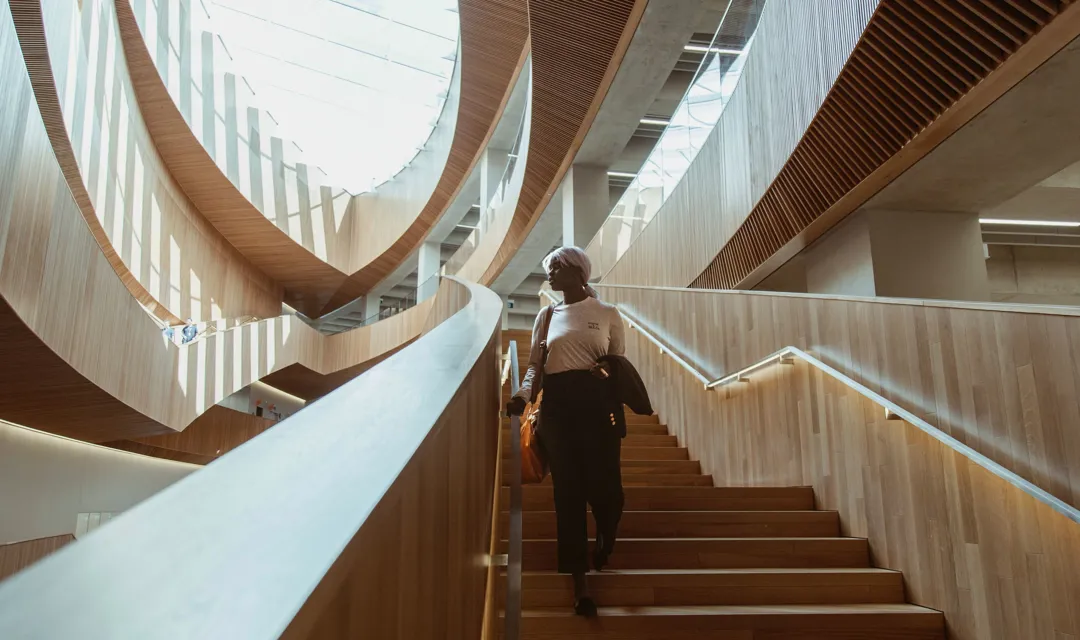 It's been almost a year since COVID-19 hit. However, it's safe to say the pandemic has changed the world of education forever. So, how can educational institutions continue to assert their relevance and boost student recruitment in a post-COVID world?
All over the globe, a staggering 1.2 billion students in 186 countries were out of the classroom last year. As a result, educational institutions needed to rapidly set up online education systems and boost student recruitment strategies to excite students and make up for the inevitable slump in enrollment numbers.
How to Recruit Students in a Post-COVID world
Aside from technical difficulties, educational institutions, like any of the other burgeoning online communities that have popped up since the pandemic, still face a myriad of challenges. These include trying to attract, connect with and, ultimately, enrol new students.
Educational institutions have responded to the pandemic with surprising levels of resilience, but some are facing reduced levels of enrollment. In Australia, enrollments dropped in May 2020 by over 100,000 students nationally in comparison to May 2019, according to the ABS, the most significant drop in over 15 years.
Similarly, in the US, where many colleges relied on an influx of international students studying abroad, enrollment numbers declined. The number of international students studying at US colleges dropped by 16% from 2020 to 2021. Last year this cost the US economy a staggering $1.8 billion.
It's easy to sell the university lifestyle based on the promise of events filled with like-minded students, a sunny campus or an expansive library, but without these on-site perks, how can institutions lure new students within a purely digital landscape?
Build a New Strategy for Student Recruitment
Now that institutions have successfully mobilized online learning – to a sufficient degree, at least -, it's critical they start ramping student recruitment – after all, their future, and our economy, largely depends on it.
The role of digital marketing when it comes to student recruitment is still crucial, and thankfully, this is one area that hasn't (yet) changed too drastically. In fact, institutions facing lower influxes of students would likely feel that the role of marketing is more critical than ever before.
Yet, in a sea of competition, how can you stand out? Interactive videos are one possible answer, particularly for institutions trying to appeal to a tech-savvy Gen Z audience. Interactive videos give institutions the ability to market courses in a highly engaging format where the viewer becomes an active participant, rather than a passive viewer.
For instance, world-renowned Monash University recently used interactive videos to promote their courses, in lieu of having an in-person open day. This video about the Bachelor of Education includes interactive "hotspots" within the video where users can seek more information about certain points raised in the video.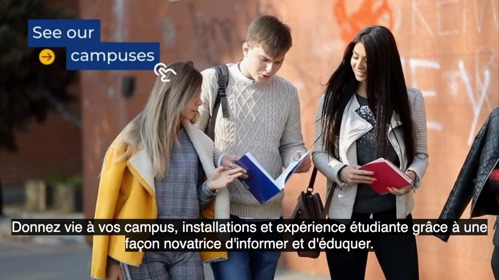 example of closed captions
Educational institutions could even play to the curious minds of those considering further education by serving them unique, choose-your-own-adventure-style interactive content to get them interested in the course curriculum.
These interactive videos, often called "branching videos", guide the viewer down different video storylines in a self-guided journey. These videos are the perfect way to provide viewers with a personalized message that addresses exactly what they're interested in, and in turn, they collect deep behavioral insights for your organization that have never been possible.
Connect with Current and Prospective Students
When it comes to connecting with current and prospective students, in-person events have traditionally played a critical role for educational institutions, particularly universities. In the past, Open Days played a huge part in creating connections – they allow universities to build a real relationship with students by introducing successful alumni, establishing the culture of the institution and, ultimately, convincing students because their faculties and staff are superior to the alternatives.
Without these in-person events, educational institutions have a tougher job in trying to connect with students. But don't despair! There are several ways you can still foster a connection remotely, using new, interactive technologies, especially if you're trying to reach screen-obsessed Gen-Z undergraduates.
Interactive video can help by:
Engaging with students on their terms. Many of the hyper-engaged Generation-Z have grown up engaging with social content through non-generic content forms, like interactive video, or actively participating in dance challenges on forums like TikTok. Simply put, they're used to engaging with online media, and they love it! But how do you put it into action? Australian non-profit R U OK Day? used an interactive video to role-play conversations about mental health, teaching viewers that anyone can discuss difficult topics.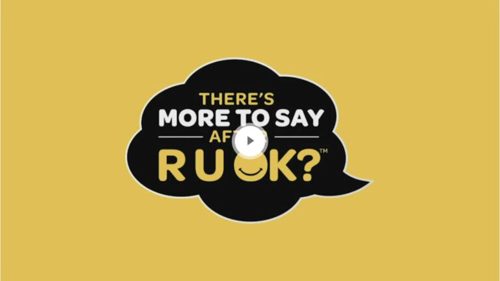 View R U OK? interactive video
Speaking to students in their own language. Let students consume content in their desired native language, through translated closed captions. This ensures your content is accessible to all, which is particularly relevant if your institution is trying to appeal to international students.
Translated closed captions
Example of translated closed captions
Enabling students to explore their own path. Use video to help students dictate their own journey of discovery. To do this, you can use branching videos to help prospective students take a self-guided journey of your institution, exploring only what is relevant to them and getting answers to the questions they're interested in. They might want to discover what facilities are like, what alumni have achieved or what the lecturers can offer.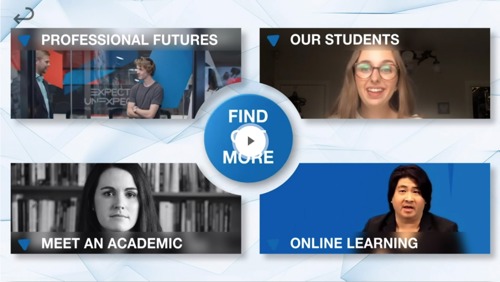 View Monash's interactive branching video
Remember – connecting with students remotely is not all bad! In fact, on the plus side, you have a unique opportunity to connect with so many more students than before using the power of digital mediums. Make it count!
Boost Student Enrollment
The phase between connecting with and enrolling students doesn't need to be disjointed – after all, the objective in establishing a connection is to ultimately lead to an enrollment. So, why not have this happen within the same medium if you can?
Interactive video enables brands to send personalized videos at scale. All you need to do is integrate your marketing automation system, such as Salesforce Marketing Cloud, with an interactive video platform.
This can be the perfect way to hold a prospective student's attention. Use personalized interactive video send via email newsletters to remind them of requirements and deadlines relating to their specific course and offer them the opportunity to enroll in a fun and exciting way.
Ultimately, advanced, and unique technological platforms like interactive video can be the perfect way to bridge the connections and touch points institutions have lost in the absence of in-person connections. The power of interactive video can help you conquer the digital world, connect with students, and breathe life back into your student recruitment strategy.
Plus, you're offering a unique and innovative way for students to consume your content, which can make them more engaged and, ultimately, makes your institution unforgettable – for all the right reasons.