6 key takeaways from The Women in Tech Fest 2022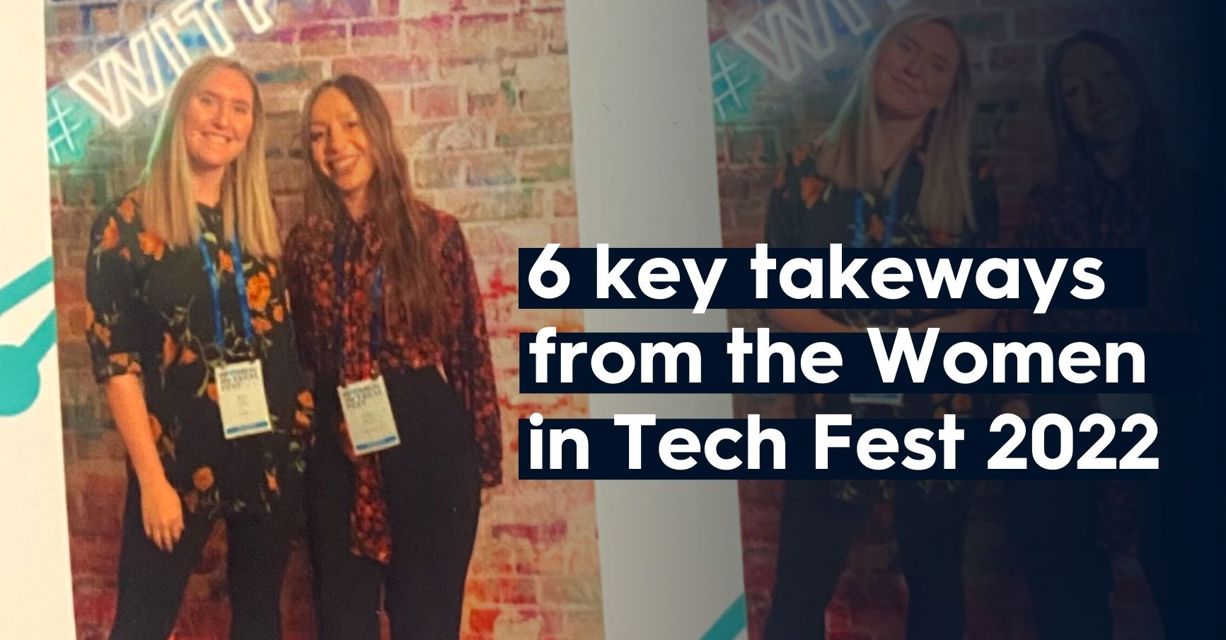 In May this year, myself (Vudoo's Marketing Manager) and my colleague Trisha Zileski (Vudoo's Account Executive) attended the 6th annual Women in Tech Fest. The Melbourne-based conference and networking event was held to inspire and give fresh insight from leaders across the tech industry.
As someone that is relatively new to this industry and doesn't have much of a 'technical' background, I was a little apprehensive going into the event. However, my hesitations quickly disappeared, after speaking with other attendees we soon realized the huge range of industry background and skills attending, and the welcoming nature of everyone involved.
Many of the event speakers had also not started out in technology. Instead, they found themselves building a career in this thriving industry through mentoring and opportunities. The enthusiasm that these women spoke about their careers and passion for technology left us all inspired. It certainly left us feeling motivated to continue developing our skills, now with the added support of many new industry connections. Here is a snapshot of some of the key thinking points we took from our conversations and the presentations at #WITF22.
1. Recognize your spark
Listening to the inspiring stories of women in the tech industry was encouragement to look inward and recognize our own strengths. Kathryn Green, Director of Digital Technology at the Australian Radiation Protection and Nuclear Safety Agency, phrased it as "recognizing your spark".
On a round table conversation which focused on the topic "Leading effective teams: building leadership capacity in fast growing teams" led by Jennifer Tod, Head of People and Culture at Littlepay. Jennifer talked with us about how implementing a personality test called the 'Harrison Assessment' had benefited how their employees approached career development. Rather than highlighting weaknesses, the Harrison assessment tells individuals what their key strengths are. Pinpointing strengths can then lead to better skill share within the workplace, as well as development in areas employees are looking to grow.
2. Diversity of gender AND skills needed in tech
With a room full of women working in tech, it was jarring to hear in Amanda Fleming's session "Beyond the glass ceiling: what's next for the current trance of women leading tech?" that 75% of Australia's technology workforce is male. Let that sink in for a moment.
Encouraging more women to take up tech roles does not mean pushing men out. Men have an equal part to play when creating diverse work environments. There will be times when men need to take the opportunity to "open more doors" for women to step into tech roles, especially senior and leadership roles.
And it's not just gender diversity that is needed to create a strong workforce, there was much discussion around 'multidisciplinary collaboration'. Rita Arrigo, Deputy Director for the Centre of Industrial AU Research and Innovation, explained that "AI is not just about technologists… it needs to have everyone involved." For example, one of the ways this can be done is by bringing in UX Designers who have the skills to elevate software design and make it more accessible for users.
3. Find a mentor or become a mentee
When we're focused on our day-to-day job and direct team, it can be easy to forget about the support that's available, especially outside your organization. The term 'mentor' was a recurring theme throughout the conference. In the session with Jo Gaines, Area Vice President, Retail & Consumer Goods at Salesforce, Jo mentioned how after a particularly tough time personally and career-wise she found a mentor that supported the development she was looking to achieve, and this helped guide her into the successful space she is today.
Dr Jenine Beekhuyzen, CEO of the Tech Girls Movement Foundation, explained how important it is to empower school girls to consider careers in tech disciplines. A large part of that encouragement comes from the mentorship program their organization runs (and if you're interested in becoming a mentor, get in touch with them on LinkedIn).
Whether you are looking for a mentor, or wanting to become one, it's important to know what you want to achieve from it and to ensure that the relationship will be beneficial from both sides. The mentor/mentee relationship might start out with simply one person providing help and advice to another. Those conversations could then develop into regular development discussions. If you're looking for a mentor, then use your network, make connections and don't be scared to ask. It's okay for somebody to not be ready to mentor, but they might have suggestions for others in their network who can provide guidance instead.
4. Importance of AI development
Dr Joanne Batstone PhD, Director of Monash Data Futures Institute and Professor of Practice at Monash University, brought to our attention that work is being done with Australia's National AI agenda to enable more industry wide transformation and to address the critical skill shortage of qualified AI workers in the country. According to the 2021 IMD World Digital Competitiveness Ranking, Australia is ranked at number 20 out of 64 countries, the report measures the readiness of economies to adopt and explore digital technologies to drive economic transformation. One of the key weaknesses identified for Australia was 'Graduates in Sciences', further demonstrating the industry workforce shortage, and the need to focus on encouraging more young people to take up science and technology degrees.
An interesting question was asked during the session: "Why are AI bots typically programmed with female voices?". These bots are one of the most common uses of AI technology within our everyday lives. There was a lot of discussion on how AI is initially programmed and if 'unconscious bias' during the initial stages of development could be causing flaws in their future use.
5. Technology is about making the human better 
Louise Baxter, CEO of The Starlight Foundation, spoke about the importance of enabling the human through technology and leading with the purpose. Positive psychology was discussed as a key topic to promote collaboration and open communication, while ensuring clarity of values. With the tech sphere thriving and new products consistently coming into the market, to stand out from the crowd your product ultimately needs to make the human better.
While listening to a lot of the speakers, we were prompted to reflect on our own purpose and roles at Vudoo. Hearing about the success of women who have led teams and brands to deliver long term value, we discussed the tangible results that we have discovered through video interactivity. In particular, we spoke about how interconnected communication through video has been key to helping us all through the lockdowns over the past couple of years. Coupled with the learnings of positive psychology, we both felt that this principle is an intrinsic value that we aim to embody at Vudoo.
6. Companies need to lead with purpose
The final speaker of the conference, Tessa Fields, Co-Founder and Chief Marketing Officer of Vyro, gave incredible insight into how her and her co-founders developed the business plan for their start-up. Tessa led with the fact that "80% of consumers expect companies to exist for a social purpose".  Tessa's company Vyro leads with climate-positive values and transparency for their customers. To create a successful business, you can't rely on just the product. Entrepreneurs need to be digging deeper into the change they're going to bring into the world, and lead with the 'why' to truly connect with their audience.